Dishwasher Installation Services
Are you looking for a dishwasher installation service in Saskatoon? Capital Appliance can help. We install dishwashers, and we'll make sure the job is done right, so you can start enjoying your new appliance as soon as possible.
Available 7 days a week, we are available whenever you need us most. With Capital Appliance, you can expect:
Comprehensive testing of your appliance

Same-day service available 7 days a week at no additional cost

We offer affordable and fair rates for any model and make
Dishwasher Brands We Install
No matter what brand of dishwasher you have, we can install it properly for you. The technicians at Capital Appliance Repair have the knowledge and experience to adapt to any situation, regardless of the dishwasher brand. We have expert knowledge on installing dishwashers from the following brands, and more: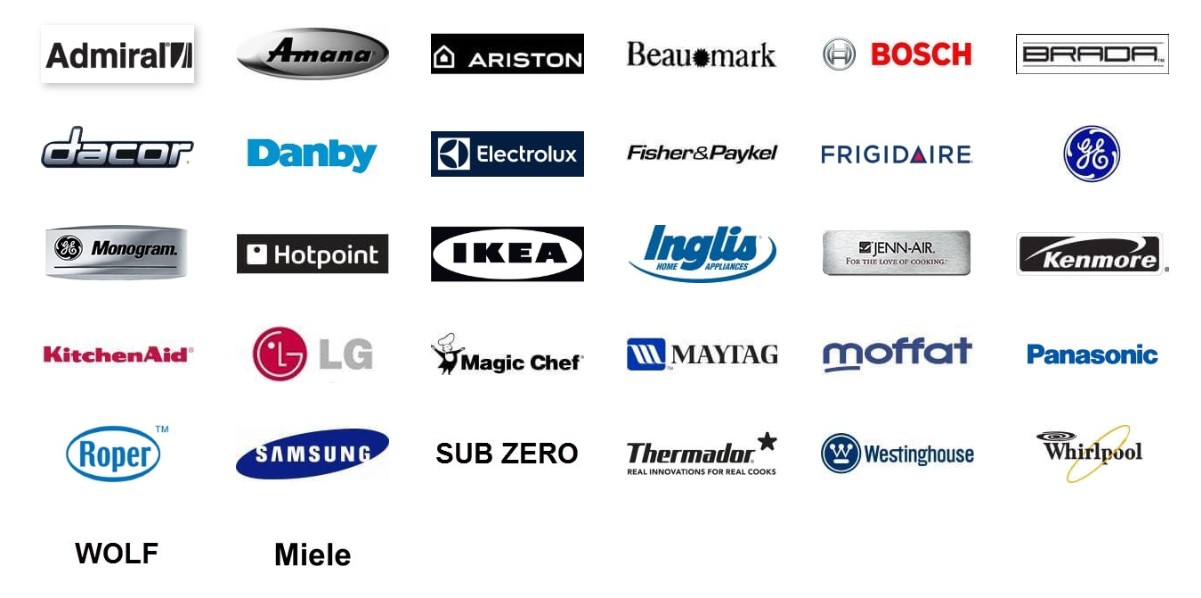 Frequently Asked Questions
Q. Is there anything I should do before the technicians arrive?
A. Before your Capital Appliance Repair technician arrives at your home, you should make sure that the area around where your new dishwasher will be installed is clean and clutter-free. This will help our technicians finish the installation quicker. We also ensure that we clean up the area after our work is done because we don't like leaving our customers with a mess.
Q. Are you technicians licensed and insured?
A. Yes. Our technicians are certified, licensed and insured to perform dishwasher installations on all of the major appliance brands.
Q. If I had my dishwasher installed by another company but it was done incorrectly, can I call you to rectify the problem?
A. If you have had a dishwasher installed incorrectly, you can call our technicians. We'll come to your home to fix the problem and get your dishwasher up and running in no time.
Q. How long will the dishwasher installation take?
A. Generally, dishwasher installations take up to 1.5 - 2 hours. Our technicians will also clean up after themselves so that they don't leave behind a mess in your home.
Q. Do your technicians arrive with all the necessary tools to do dishwasher installations?
A. Yes. Our technicians are always ready with the proper tools to do dishwasher installations and are ready to deal with any contingency.
Q. Should I try to Install my dishwasher myself?
A. Unless you have experience, it is not a good idea to install a dishwasher without the help of an expert. Often times, doing the installation yourself seems like the less expensive option, but this can lead to damage which will result in additional, unnecessary costs.
Q. Are you available on weekends?
A. Yes. We are available 7 days a week for dishwasher installations anywhere in Saskatoon. Call Capital Appliance Repair to speak with one of our representatives and get started today.
Q. What areas do you service?
A. We service areas in Saskatoon and the surrounding areas. This includes Langham, Dundurn, Martensville, Asquith and other areas.
Q. What do I do if my dishwasher starts to have problems?
A. If you notice that your dishwasher is exhibiting problems, then you should call us for same-day dishwasher repairs. Our technicians have dealt with all kinds of problems with dishwashers and are fully capable of diagnosing and repairing any issue. You can also call us for your fridge repairs, stove repairs, oven repairs, washer repairs, and dryer repairs. We have a lot of years of experience with providing appliance repairs in Saskatoon.